FATE PLAYS GRIM
TRICK ON STRANG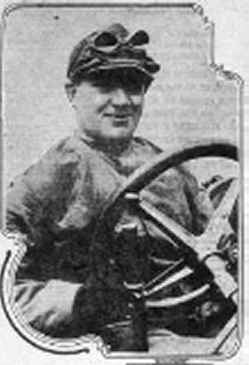 ---
Lewis Strang, famous automobile racer, who was pinned under his car when
it turned turtle off a five foot embankment
---
Daring Auto Driver is Killed When Going
Only Five Miles an Hour
---
MILWAUKEE, July 20--Lewis Strang was killed today when his motor car went into a ditch near blue River, Wis.
By a strange trick of fate, Strang, famous as a daring driver of racing automobiles, who hundreds of times had risked his life in mad dashes around motor courses, threading his way through the thundering, careening press of other speedmad cars, lost his life while driving along a country road at no more than four miles an hour--pushed over an embankment by fear of collision with a farmer's cart.
Strang was piloting the machine of the technical committee of the Wisconsin Automobile association on its annual reliability run from La Crosse to Lancaster, a distance of 128 miles.
Early reports were that Strang was going at a good speed when the party encountered a passing team, and in endeavoring to avoid a collision the car plunged over an embankment, pinning Strang to the ground.
Later advices, however, indicate that the car was running at only about four miles an hour, when the farmer was seen going in the same direction. Strang turned aside, but the bank suddenly gave way and his car slid down the embankment, turning turtle, and Strang, reluctant to jump, went under it to his death.
In the car with Strang were J. W. Tufts, Milwaukee; Joe Jaegersberger and L. A. Clark, Lancaster, Wis.
It seems that the embankment was scarcely more than five feet high. The body of Strang will be taken to Blue River.
Strang broke an arm about the middle of June during a race in Kenosha, and is said not to have been strong enough to attempt the wearisone grind of the state run this week. It is thought this weak arm may have contributed to a lack of control of the car. The body will be sent to New York for burial.
Lewis Strang was 26 years old and was born in New York, but had been connected with the Case company for years. He had driven in practically every race of importance since 1907. In 1907 he was the winner of the circular track mile at Birmingham, Ala., and made a mile record in Nashville. He was a winner in 1908 at Savannah in a road race, also at Lowell, Mass., and at Brighton Beach. In 1909 he was a winner at Ormond Beach, making 100 miles in 94 minutes.
In 1910, on the Indianapolis motor speedway, he made a quarter mile record in 8 seconds, making 119 miles an hour, one kilometer, 22 seconds; five miles in 3 minutes 17 seconds.